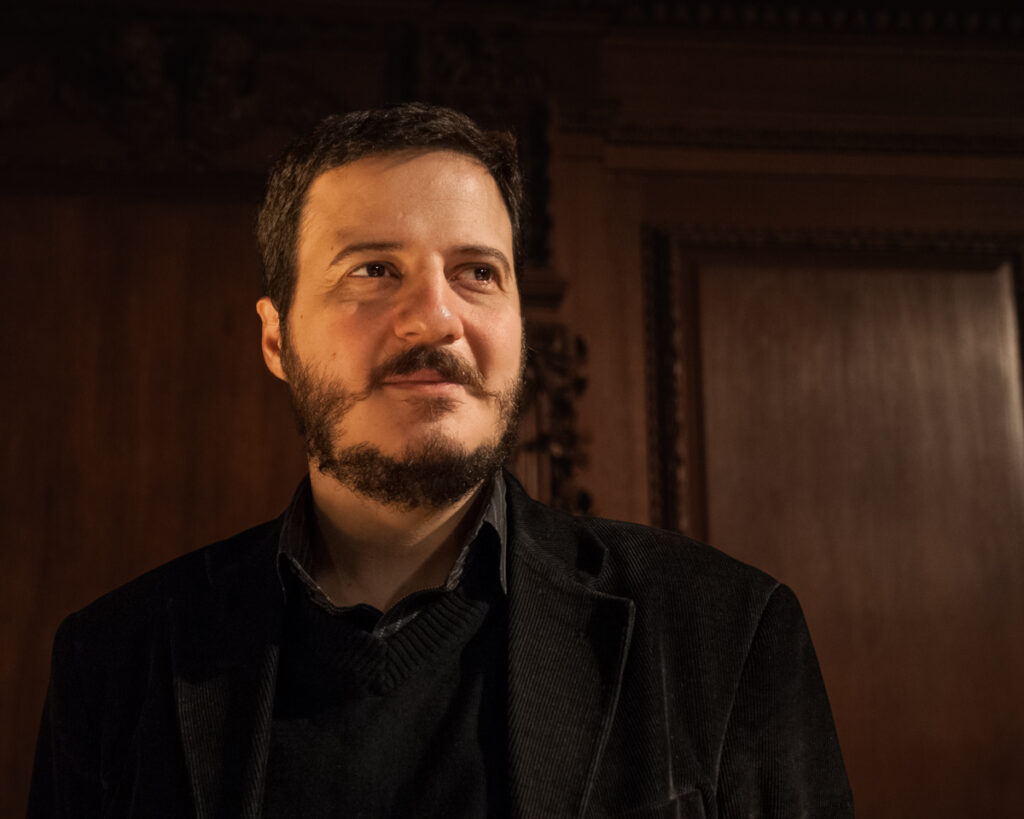 Grammy nominated composer and CMES Harvard University fellow (2013-15) Mehmet Ali Sanlıkol made his Carnegie Hall debut in April 2016 premiering his commissioned piece Harabat/The Intoxicated with the American Composers Orchestra. Other recent works have been heard at Tanglewood's Ozawa Hall and on A Far Cry string orchestra's several different recordings. He hails from Cyprus and Turkey, and is a Jazz pianist, a multi-instrumentalist, a singer, an ethnomusicologist as well as a full-time faculty member at the New England Conservatory. Sanlıkol was the recipient of numerous respected awards including the South Arts Jazz Road Creative Residency Grant in 2021, The Aaron Copland Fund for Music Grant twice in 2016 and 2020 as well as the New Music USA Project Grant in 2020 and has been praised by critics all over the world for his unique, pluralist, multicultural and energetic musical voice. The Boston Globe noted that Sanlıkol's "music is colorful, fanciful, full of rhythmic life, and full of feeling. The multiculturalism is not touristy, but rather sophisticated, informed, internalized; Sanlıkol is a citizen of the world", "…and he (Sanlıkol) is another who could play decisive role in music's future in the world."
A musical polymath, Mehmet Ali Sanlıkol has composed for, performed and toured with international stars and ensembles such as Dave Liebman, Bob Brookmeyer, Billy Cobham, Esperanza Spalding, Gil Goldstein, Antonio Sanchez, Anat Cohen, Tiger Okoshi, Tommy Smith, Miguel Zenón, The Boston Camerata, The Boston Cello Quartet, A Far Cry string orchestra, American Composers Orchestra, Okay Temiz, Erkan Oğur and Birol Yayla. Sanlıkol's unique blend of jazz composition and Turkish music has been praised by the Boston Globe as "a true fusion of jazz and folkloric Turkish language and colors." Sanlıkol pairs Turkish instruments such as zurna (double reed wind), ney (end-blown flute), kös (large kettledrums) and nekkare (small kettledrums) with the jazz orchestra/combo to perform his Turkish music-influenced compositions, in which Turkish makam (mode) and usul (rhythmic cycles) are intertwined with modern jazz as well as specifically film noir influenced music. To achieve the same goal on keyboard instruments he has designed and conceived the SANLIKOL Renaissance 17, a digital microtonal keyboard with 17 keys per octave.
Sanlıkol studied western classical piano with his mother Fethiye Sanlıkol and started giving piano recitals as early as age five. Later on he studied with the internationally acclaimed Turkish composer/pianist Aydın Esen and won a scholarship to Berklee College of Music. While at Berklee Sanlıkol studied jazz composition with such accomplished composers like Herb Pomeroy and Ken Pullig. After studying with composers George Russell, Bob Brookmeyer and Lee Hyla, in the year 2004 Sanlıkol completed his Doctor of Musical Arts Degree in Composition. During his doctoral studies Sanlıkol also focused on Turkish music and ethnomusicology as a result of which he helped find the organization DÜNYA based in Boston, Massachusetts. Sanlıkol is the president of DÜNYA, a musicians' collective dedicated to contemporary presentations of Turkish traditions, alone and in interaction with other world traditions, through musical performance, publication, and educational activities. Since its founding Sanlıkol has produced, performed and delivered talks at over two hundred DÜNYA events. DÜNYA has also released 17 albums, 3 singles, a concert DVD, a feature film of Sanlıkol's opera "Othello in the Seraglio" and a documentary film. The unique nature and the success of DÜNYA resulted with Mehmet Ali Sanlıkol going on the air numerous times on NPR and PRI.
Sanlıkol actively delivers papers and talks at academic conferences such as International Conference on Analytical Approaches to World Music and Society for Ethnomusicology. Sanlıkol's first book, entitled The Musician Mehters, about the organization and the music of the Ottoman Janissary Bands has been published during 2011 in English by The ISIS press and in Turkish by Yapı Kredi Yayınları. His second book, entitled Reform, Notation and Ottoman music in Early 19th Century Istanbul: EUTERPE, was published by Routledge in 2023. Currently, he is the director of New England Conservatory's Intercultural Institute.