FOR YOUR GRAMMY® CONSIDERATION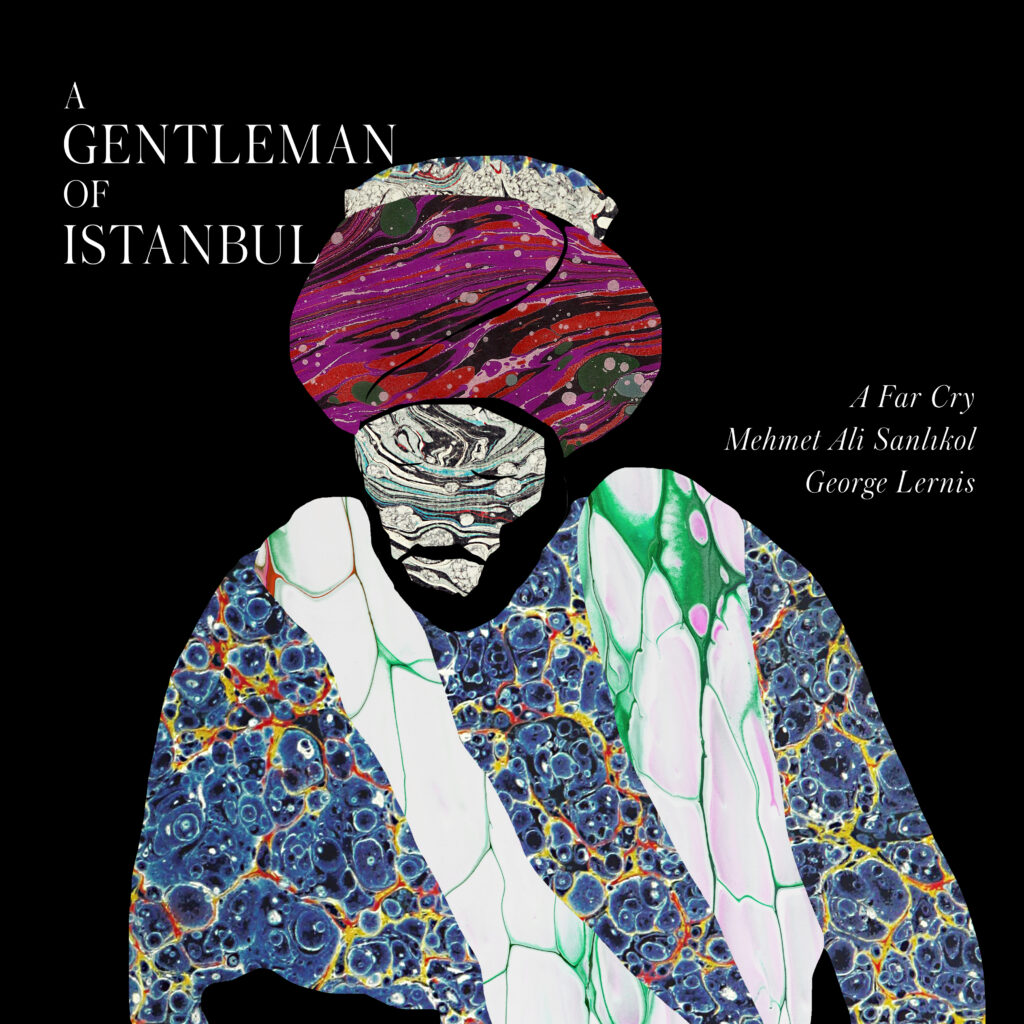 A GENTLEMAN OF ISTANBUL: Symphony for Strings, Percussion, Piano, Oud, Ney & Tenor by A Far Cry, Mehmet Ali Sanlıkol, George Lernis
BEST CHAMBER MUSIC/SMALL ENSEMBLE PERFORMANCE
&
BEST CONTEMPORARY CLASSICAL COMPOSITION
---
"…there is not a cliche to be heard…it takes nothing for granted and in doing so avoids the banal and the conventional to create a living art music we can all appreciate…Mehmet Ali Sanlikol is a voice for today, talented and accessible in the best ways" Gregory Applegate Edwards, Classical-Modern Music Review
"A Gentleman of Istanbul is an exceptional work – deeply moving, authentically multicultural, and instantly re-listanable. A Far Cry and Sanlıkol have nailed it with this collaboration" Chrysanthe Tan, San Francisco Classical Voice 
---
LINER NOTES
Evliya Çelebi (çelebi: a title of distinction during the Ottoman period meaning 'gentleman') was an unusual Ottoman traveler, known today largely through his exceptional travelogue, the Seyahatname, probably the longest travel account ever written. Born in Istanbul in 1611 Evliya was a curious and an unconventional person who was educated in the Ottoman court. His is a sophisticated depiction of the known world through the eyes of a 17th century Ottoman Muslim; it has drama and color, darkness and light as well as tragedy and humor. Indeed, when these days the stereotyping of Muslims is so common it is this expansive cosmopolitanism I found in Evliya's world that inspired me to compose this concert piece. I am convinced that anyone who enters this fascinating world will come out of it changed.
The four qualities I chose to emphasize from Evliya's travelogue are the scientific (based on observation), the tragic, the fantastic, and the historic. While all excerpts share an element of fantasy (i.e. one hundred thousand men at Kaya Sultan's funeral, Alexander with two horns, etc.) there is still a distinction in Evliya's writing between the real and the surreal. For example, to preview the stories that inspired two of the movements you will be hearing, Ottoman Muslims truly believed that Alexander was a prophet who possessed two horns (4th movement); whereas the vegetarian dervishes of the 3rd movement are a completely made-up story, so far as we know. In fact, this has been a constant subject of debate among historians studying Evliya: what is real and what is not? In the end, no matter which quality he may be reflecting on he is always a storyteller, prone to exaggeration;observation is always amplified to better communicate the subject matter. So, in the first movement, we may think that Evliya is exaggerating when writing about the "clocks in the forms of various creatures, with moving eyes, hands and feet" (see the excerpt in the first movement below) but, it turns out that there really were such clocks back in 17th century in Austria and Germany!
In order to best reflect on Evliya's dizzying scope as well as the richness of 17th century Ottoman culture, I have incorporated an unusual variety of musical styles and solo instruments in this composition including concert music, jazz, African polyrhythms and various types of Turkish music. While the first movement, "The Clocks and Bells of Vienna", is influenced by Bartok and features the oud and percussion, the second movement, "The Death of Kaya Sultan", is a jazz ballad with piano. The third movement, "The Vegetarian Dervishes", is a mixture of Turkish Sufi and African musics featuring the ney (end-blown flute), whereas the fourth movement, "Alexander the Great", incorporates characteristics of classical Ottoman/Turkish music followed by Koranic chant which is then followed by Penderecki-like new music. However stylistically eclectic the piece may be, the four movements are based on the classical symphonic structure: a fast first movement in sonata form, a slow ballad for the second movement, a triple meter third movement (in this case alternating between six beats and three beats), and a fast last movement with which I take the most liberties inspired by the programmatic nature of the text.
In the end, my aim was to create a musical world as rich, colorful, diverse, and cosmopolitan as Evliya's amazing travelogue. Ultimately, through this piece, I am aiming to be a 21st century Evliya.
                                                                                                                        Mehmet Ali Sanlıkol
***
I. The Clocks and Bells of Vienna – Allegro
Evliya the observer:
"Shopkeepers are to be found on a number of streets and, the bazaars of the watchmakers, goldsmiths, book-printers, barbers and tailors are so fancy that they are decked out like Chinese picture galleries. And the shops are unequaled in the operation of wonderful objects and strange instruments. Alarm clocks, clocks marking prayer times, or the month and day, or the signs of the zodiac, clocks on a monthly or daily calendar, chiming wall clocks are produced. And, they make all kinds of clocks in the forms of various creatures, with moving eyes, hands and feet, so the viewer thinks those animals are alive; whereas those great masters make them move with wheel mechanisms to turn them into clocks. Also, however many mills there are in the city, not a single one is turned by a horse or an ox or a man. The mills — and the kebab skewers, buckets of water drawn from wells, even the carriages traveling in the countryside — all move without horses or oxen but by way of devious and devilish yet artistic clockwork wheel mechanisms…
The largest clock bell is on this tower [of Stephansdom] which is as large as the dome of a Turkish bath. It's hammer is as big as a horse's belly so that when at noon time this clock hits twelve, the bell is heard from as far as two days' journey. During Winter time in order to avoid the bell from cracking they place a felt cloth in front of the hammer as a result of which the hammer doesn't have much impact. And, there are forty, fifty different ways of sounding the bell when the Tatars attack the city (and on similar terrible days) as well as on feast days of St. Nicholas, St. Demetrius, St. George, Easter, and on those days when the king has known duties. There are forty infidel servants who, at times, will sound the bell but, most times, when it's time has come the bell will sound automatically… When the time has come, first this Stephansdom's great bell goes off and before the sound of it's first hit is over all of the bells of the clock towers inside the castle of Vienna will start sounding as they have found a surprising way of communicating."
II. The Death of Kaya Sultan – Jazz Ballad
Evliya the epic storyteller:
"Kaya Sultan's months and days were fulfilled, and all the sultanas and sisters and friends, and all the experienced women and skilled midwives of physician-like disposition were present at the time of her delivery. God be praised, as on that blessed night forty complete Koran recitals and forty thousand invocations of the Prophet were being recited, Creator of the universe, God brought forth from Kaya a pure-starred daughter just as He had brought forth Salah's she-camel. There were joy and celebration that night both in the Eyüb Sultan mansion and the city [Istanbul] until the morning by which time the pasha had given away ten purses as alms. Kaya Sultan also gave forty purses, and five hundred men were clothed in all sorts of garments after which they offered benedictions.
But God did not provide help as the placenta, which is supposed to come down the uterus and exit the mother's womb during the afterbirth, in the case of Kaya, who was a big woman, remained stuck in the womb, attached to her heart. So that night and the next morning in the city of Eyüb, joy and celebration turned to grief and woe, and the bliss of the pasha and of all the retainers and servants turned to torment. They placed the sultana in blankets and shook her mercilessly. Twice they suspended her upside down and, they filled a honey barrel with orange-flower water and put her inside. To make a long story short, they tortured her so much for three days and nights that all the pleasures she ever enjoyed in this world were forced out of her… At last, four days after giving birth, Kaya Sultan died…
They carried the dead sultana to the mosque of Ebâ Eyyûb-ı Ensari, where one hundred thousand men performed a service crying and lamenting; then by the dock they placed Kaya's bier on the Bostancıbaşı's boat, reciting the verse "embark on it; both it's sailing and it's mooring is by the name of God. No doubt, God is most forgiving and protecting." [Koran 11:41] And they proceeded to take Kaya with a thousand boats amidst the prayers of teachers and scholars…
In sum, if they were to compose an elegy of a thousand verses for this Kaya Sultan, they could not even begin to describe her noble character and pleasant disposition".
III. The Vegetarian Dervishes – Semai
Evliya the novelist:
"My slaves, Kazım and Sührab were up and observing in all directions as I was never in the absence of observers since I was advised to do so in the cities of Ibrim and Say [southern Egypt and northern Sudan]. Suddenly, "master, two men appeared and we cannot tell what they are riding but they are about to come here" said the servants. So I answered "be alert with your weapons as always" and got busy eating a watermelon. Then they came by, both white men, and as I was saying that I have never seen the animals they were riding, a beautiful Bektashi horn sounded upon which this poor one stood up and greeted the riders. As they approached I understood that these were two strong and handsome Bektashi dervishes, lovers of God, who eventually got off their animals and sat down with bridles in hand. I quickly said "servants, take the animals out for a walk" but the dervishes said "no, these animals do not come near men who eat the meats of dead animals that once had souls, and such men cannot approach them too". Baffled, I said "really?"
One of them was riding a majestic rhinoceros… And the other one was riding an animal definitely not different than a mule but with thin black horns by the ears… Since we had camel meat and chicken I offered good food but they cried "no, we gave up eating those once living seven years ago". I asked what the reason was, so they cried "we, three brothers, were traveling from India to Ethiopia on Indian ships when Portuguese infidels took our ships and jailed us as slaves inside the hold of a ship. The Lord works in mysterious ways: when one of our brothers died they made kebab out of his dead body and made us eat him – during an entire month we both ate him – but, after a month, while journeying in the ocean a storm destroyed our ship and we were able to escape to a great island where we purified our bodies in a river, offered two prayers of gratitude, and swore never to eat those who had souls. That's why." And they continued "the next day, these animals came to us in a friendly manner and by way of sign language asked us to ride them. So, we have been wandering with these animals during the past seven years".
IV. Alexander the Great – Devr-i Kebir & Vivace
Evliya the historian:
"According to the true reports of, first of all, the historians of Greeks, Arabs and Persians; and the true historian Mıkdisi son of Bey Hakı-i Yarmeni; and his excellency Sultan Şerefeddin-i Abbasi, author of the Şerefname and the forefather of the noble Khan of the Abbasid dynasty: since Alexander had two horns of firm flesh on his forehead he was called Alexander the Zülkarneyn [lit. two-horned]. According to some, thirty-two years is called a karn and the sphere of the universe revolves once in thirty-two years. Since Alexander experienced two such karns or global revolutions, they called him Zülkarneyn but, karn also means horn in Arabic. So, the most correct report is that he was called Zülkarneyn because of his horns. However, Alexander could not get one hour's restful sleep because of the pain from these horns, and none of his physicians could find a cure for it. Finally, while he was searching for a cure according to the suggestion of his physicians and scholars this blessed revelation from Lord God came upon Alexander: "O Zülkarneyn, Gog and Magog are ravaging this land." [Koran, 18:94] Following this blessed command he went with all his doctors and physicians seeking the water of life to the land of darkness, passed beyond the sea of darkness, built the wall of Gog, and on his return he expended much effort again seeking the water of life for the pain of his horns and for eternal life; but when he found no trace of it he despaired for the cure of life and washed his hands of it".
*All of the above excerpts from Evliya Çelebi's Seyahatname (The Book of Travels) were based on translations by Robert Dankoff which were further edited by Mehmet Ali Sanlıkol.  
— 
The Koran, 18: 92-97, from Al-Kahf (The Cave)
Summa atba'a sababaa
Hattaaa izaa balagha bainas saddaini wajada min doonihimaa qawmal laa yakaa doona yafqahoona qawlaa
Qaaloo yaa Zal qarnaini inna Yaajooja wa Maajooja mufsidoona fil ardi fahal naj'alu laka kharjan 'alaaa an taj'ala bainanaa wa bainahum saddas
Qaala maa makkannee feehi Rabbee khairun fa-a'eenoonee biquwwatin aj'al bainakum wa bainahum radmaa
Aatoonee zubaral hadeed, hattaaa izaa saawaa bainas sadafaini qaalan fukhoo hattaaa izaa ja'alahoo naaran qaala aatooneee ufrigh 'alaihi qitraa
Famas taa'ooo any yazharoohu wa mastataa'oo lahoo naqbaa
Then he followed yet another route until he came between the Two Mountains and found a people who could barely understand a word. They said "O Zülkarneyn, Gog and Magog are ravaging this land. Build a rampart between us, and we will pay you tribute." He replied: "The power my Lord has given me is better than any tribute. Lend me a force of men, and I will raise a rampart between you and them. Come, bring me blocks of iron." He dammed up the valley between the Two Mountains, and said: "Ply your bellows." And when the iron blocks were red with heat, he said: "Bring me molten brass to pour on them." Gog and Magog could not scale it, nor could they dig their way through it.
Translation from N. J. Dawood, The Koran. (Penguin Books, 2000).
***
Music composed and arranged by Mehmet Ali Sanlıkol, Mehteran Publishing, ASCAP
Musicians
Piano, Oud, Ney, Voice – Mehmet Ali Sanlıkol
Drum set, Tam Tam (gong), Tubular Bells, Glockenspiel – George Lernis
Violin – Annie Rabbat, Clara Kim, Jae Cosmos Lee, Jesse Irons, Lilit Hartunian, Megumi Stohs Lewis, Omar Chen Guey, Rebecca Anderson, Zenas Hsu
Viola – Caitlin Lynch, Jason Fisher, Rimbo Wong, Sarah Darling
Cello – Alan Richardson, Loewi Lin, Michael Unterman
Bass – Charles Clements, Lizzie Burns
A Far Cry Staff
Grace Kennerly, Executive Director
Alison Fessler, Marketing and Development Manager
Tim Mauthe, Operations Manager
Jesse Lewis, Producer
Christopher Moretti and John Weston, Recording Engineers
Travis Karpak and Jacob Steingart, Assistant Engineers
Christopher Moretti, Mixing Engineer
Jesse Lewis and Shauna Barravecchio, Mastering Engineers
Recorded at Futura Productions on June 4-5, 2021
Cover collage and packaging design by DM Stith
Interior Photos by Mehmet Ali Sanlıkol and Dan Schwartz
Release date 4.7.2023
UPC 867458000088
Crier Records 2301